Karina Bahrin: Island State of Mind
A decade since opening an intimate resort in Langkawi and making the island her home, Karina Bahrin talks about leading a meaningful life with nary a regret.
By Raajeish Taalver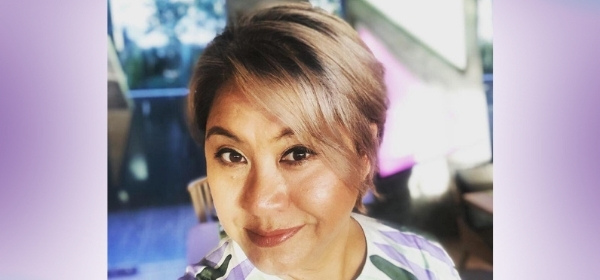 Karina doesn't regret trading in city chaos for island intimacy a decade ago. (Karina Bahrin pic)
When Karina Bahrin realised over a decade ago that she wanted more freedom in managing her time and life, she knew something had to change. She was done with Kuala Lumpur's traffic snarls and wanted to properly ditch her nine-to-five with the same zeal. Having spent over 20 years in corporate communications and public relations with companies like Intel, Microsoft and Bursa Malaysia, Karina decided to trade in city chaos for island intimacy. So she set out to build and operate a boutique resort in Langkawi. "For me, not wanting to sit in traffic jams anymore was a real consideration. So, I built a hotel where I could walk to work," Karina says matter-of-factly. That "workplace" is the intimate La Pari-Pari Langkawi. Located in Pantai Tengah and close to where eateries, shopping and spectacular sunsets bring in the crowds, the resort offers 12 rooms within a secluded ground surrounded by nature and greenery.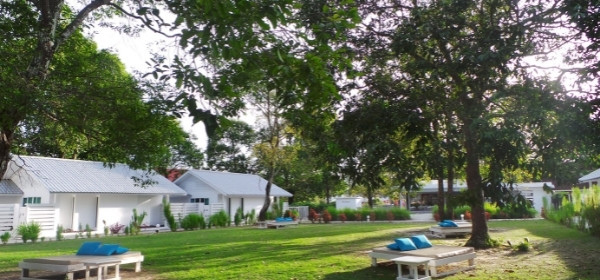 La Pari-Pari is a 12-room resort within a secluded ground surrounded by greenery. (La Pari-Pari Langkawi pic)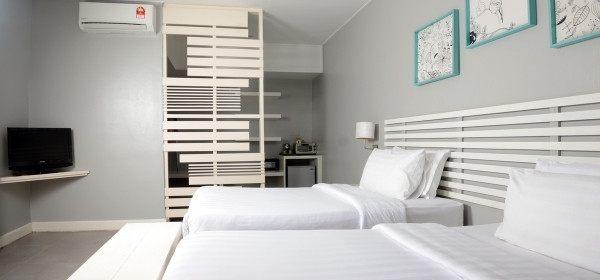 The resort provides guests with the luxury of a secluded, intimate setting. (La Pari-Pari Langkawi pic)
Almost a decade since La Pari-Pari opened, Karina hasn't the slightest note of regret leaving the capital city for good. "We have returning regulars, guests who've become friends. What appeals to them about La Lari-Pari is the familiarity, that it feels like home. But, of course, this is home for me, too. So I don't miss any aspect of my previous life."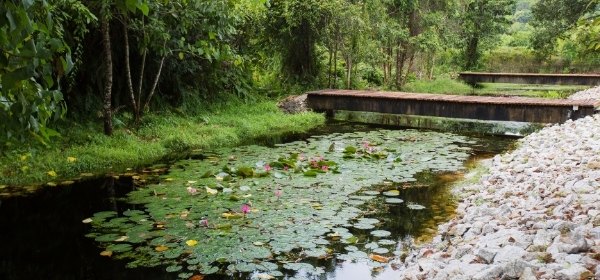 A water lily pond within the resort. (La Pari-Pari Langkawi pic)
Karina desired a more spartan existence, but that didn't mean living an utterly laid-back life. "I just chose to do it in a less urban setting, that's all. I moved from being employed to becoming an entrepreneur. At times I end up working 13-hour days, but I have the flexibility in my downtime," she adds. Is Karina, 52, a different person from 10 years ago? "One of the most important lessons I've learned here is to let go of control. So, yes, in that perspective, I've changed. But, intrinsically, I'm probably as obnoxious and lazy as I was before, if not worse," Karina laughs. "In some ways, as we age, we become clearer caricatures of ourselves. The essential parts of our personality come even more to the fore. You care less about what people think of you." Be that as it may, no one could accuse Karina of not caring for the island and its people. When the Covid-19 pandemic and consequent restrictions hit, locals dependent on tourism were naturally the worst affected. Unless they were from fishing or farming families, many people ended up penniless. "However, many groups emerged to rally food and other contributions for the affected communities, and that was heart-warming to see. But the pandemic highlighted an issue my partner Jacqueline (How) and I started harping on long before Covid-19. "We've attempted to engage with anyone willing to listen to us, saying, 'Look, you need to expand the economy of the island beyond tourism and leisure.' As a result, there's a little more interest in farming now. People are asking what else they can do to create a secondary economy," she explains. An example of a community-benefitting project close to Karina's heart is Kebun Republik. The farmers' market initiative produces and distributes pesticide-free vegetables. "Trying to persuade locals to go organic has been a little challenging, but we've moved ahead with the farm. It has been in operation for over six months, and we've started servicing restaurants and five-star hotels. If we're successful, we hope it will persuade other people to give the effort a shot."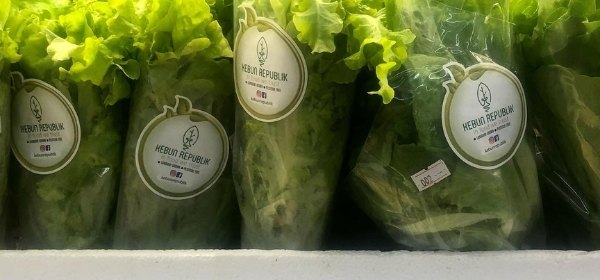 Kebun Republik produces and distributes pesticide-free vegetables. (Kebun Republik pic via Facebook)
Another community project Karina is passionate about is Suatukala (Once Upon A Time). The creative arts initiative started six years ago promotes storytelling in any form amongst children and youth. "All that's talked about Langkawi's tourism is Mahsuri, (Gunung) Mat Cincang and (Pulau) Dayang Bunting. Where are the new or other lesser-known stories? "Storytelling is an essential aspect of self-expression and helps you develop critical thinking and analysis. It's also something I hope will help grow and diversify the stories related to Langkawi in the long run." Karina is justifiably excited about the endeavour. "We're working with a few KL artists to organise a performance at the end of November. We've also received funding for an island-wide story competition and boot camp. A playwright will produce 10-minute plays for the participants."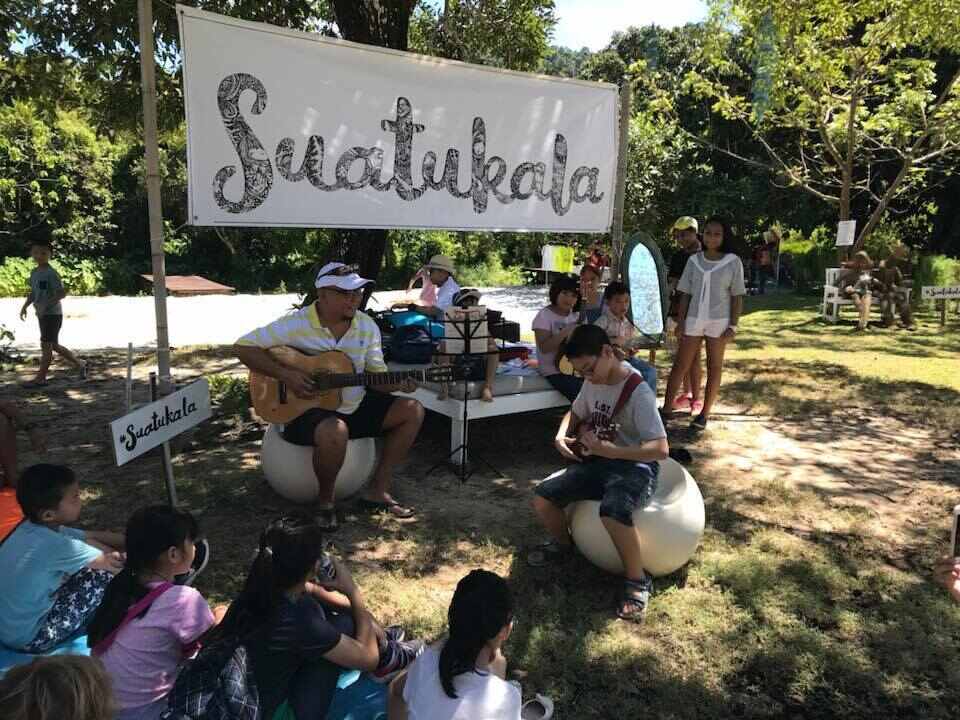 Suatukala promotes storytelling in any form amongst children and youth. (Suatukala pic via Facebook)
She certainly knows a thing or two about indulging stories. The author, best known for the 'A Subtle Degree of Restraint and Other Stories' collection, completed a new manuscript last year. "I shopped it around for a little bit, then submitted it for a fiction competition. I have other story ideas I want to work on, but that will have to wait for now with things getting moving in the island and our resort." Karina believes the industry will reach pre-Covid levels only in 2023. "I'm not anticipating a short-term recovery of things. It will be slow for the next 18 months at least." La Pari-Pari updated its rates as the government announced a travel bubble for fully-vaccinated Malaysians to Langkawi in mid-September. "We've introduced a new self-care rate. The per-night cost is lower because it's without services like housekeeping. "This option suits travellers who want minimal interactions with others. This helps us protect our staff, too. Guests are to keep the room tidy for the duration before we clean up and sanitise the place for the next guest." Karina hopes the pandemic leaves people, especially urbanites, an important takeaway: "I hope there's some realisation that life doesn't need to be complicated. You don't need to try the newest restaurant the minute it opens. You don't need the latest fashion or club memberships. "I came to this realisation not long after arriving in Langkawi. I lived out of two suitcases in a rented house for eight months before my own place was ready. When I finally unpacked all my belongings, I found things I had completely forgotten about. In the end, a lot of things don't really matter."