Nelly Lim Abdullah: The Rempah of Life
The talented cook behind the 'Aunty Nellie's Easy Rempah' spice base talks about the inspiration behind her range, why she wants you to feel like your mum's in the kitchen right there with you, and her love for food.
By Raajeish Taalver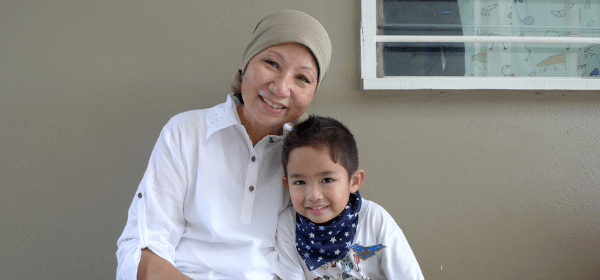 Nelly Tan Abdullah with her grandson Adley.
If you've constantly wished you could emulate the uniqueness of your mum or grandma's signature dishes like Asam Pedas but still couldn't get them quite right, 'Aunty Nellie's Easy Rempah' could be your culinary saviour. As its name suggests, the range takes the difficulty of preparing authentic Malay and Baba-Nyonya cuisine out of the equation by offering easy and ready-to-use rempah (spice base). The brand's namesake, Nelly Lim Abdullah, could be considered a purveyor of delicate artisan spices. The Penang-born homemaker is from a family of great cooks, including her mother and mother-in-law and their generations-old Malay and Baba-Nyonya recipes. She tells Amazing Seniors: "After helping my just-retired husband set up a barber business, I decided to create a truly homemade rempah that's quite unlike any other blend out there. It had to be Muslim-friendly, use only fresh ingredients, and have no preservatives, MSG or colouring. So I tried all the mixes out there, and none tasted like what I wanted. They all had preservatives." Nelly's homemade range comprises rempah for Asam Pedas and Sambal Udang. "I want people to have home-cooked meals that taste like how your mum would make them, yet easy to prepare. So all you have to do is add water and your choice of meat, seafood or vegetables to our rempah and voila! It doesn't get any easier than that," she says.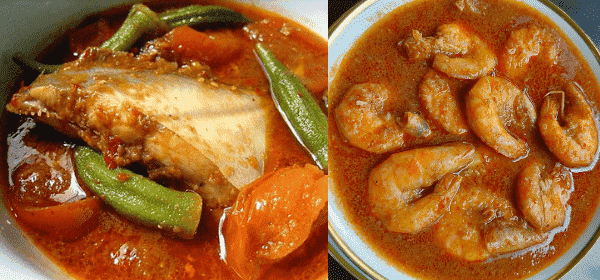 Asam Pedas and Sambal Udang dishes prepared from 'Auntie Nellie's Easy Rempah' pastes.
The process of perfecting the rempah is not particularly difficult but tedious. "Initially, after preparation, my arms ached for days because it takes muscle power to stir and mix large amounts manually. On the plus side, I now have strong arms without having to go to the gym!" The recipe behind each base is something Nelly naturally keeps "classified" but reveals that onions are a primary ingredient. "They're a key ingredient in our rempah. I couldn't do without onions in all my cooking!" Much of what she learnt from her elders goes into preparing the Aunty Nellie's range. "I take inspiration from my mum, who always insisted on the best ingredients no matter how expensive. And my mother-in-law's words ring true to this day: 'Enjoy cooking. Take it nice and easy so it's not a chore.'"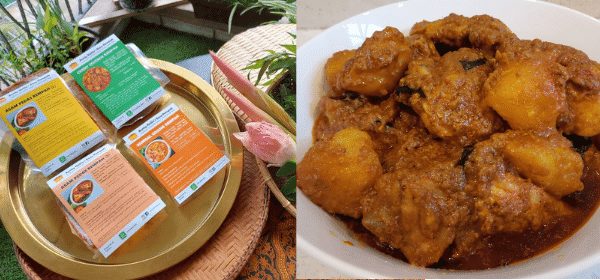 'Aunty Nellie's Easy Rempah' packs and the ever-popular chicken curry dish.
"Only the freshest and the best quality ingredients work for us, and we have an air-conditioned workspace to ensure our blends stay fresh as we cook and pack them. But, of course, the taste and colour of the mix must also meet our expectations." Stored properly, Nelly says a pack could last up to six months. "Our rempah packets are frozen. So to ensure freshness, we recommend that you store it the way you received it – sealed." Unsurprisingly, Nelly savours what she loves cooking. "The whole family's favourite is my mother-in-law's Nyonya Kari Kapitan (chicken curry)," she professes. "Why not? Cook what you love to eat. That way, you're never disappointed if it doesn't taste great to others but is fantastic to you. So I say live to eat!" Nelly's love for spices is apparent as she shares her plans for 'Aunty Nellie's Easy Rempah'. She hopes to roll out a range of other bases soon for a few chicken curry dishes. "We're also exploring the possibility of supplying to retail shops and supermarkets to increase our customer reach and make it easier for customers to enjoy our rempah." To order Aunty Nellie's Easy Rempah, send a WhatsApp to 019-6060 861 or click on this link: https://wa.link/xawt2o Follow Aunty Nellie's Easy Rempah on Facebook: https://www.facebook.com/auntynellierempah