Seniors prove age is no barrier to having fun at three-day festival
Life Begins at 50 - The Celebration
By S. INDRAMALAR and MING TEOH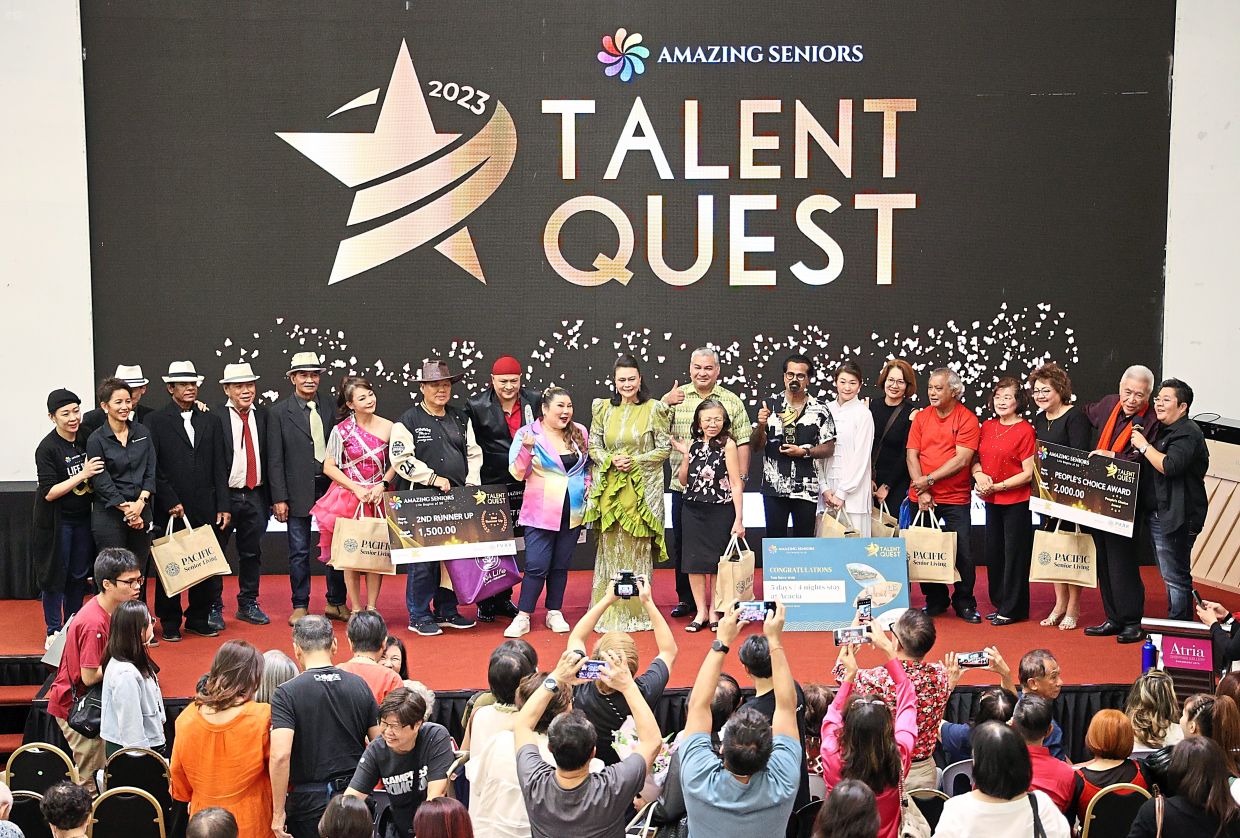 The Talent Quest finalists and judges pose with Amazing Seniors after a successful three days of activities for seniors. Photo: The Star/Art Chen
Science teacher Subash Abdullah admits that he joined Talent Quest, the first ever talent competition for seniors, because of a challenge thrown at him by a student. "I caught him vaping and he told me that he'd stop if I took part (in the competition). He didn't realise that I can actually dance and sing, and so I accepted the challenge and now, the rest is history. He'll have to say 'bye bye' to his vape, thank goodness," says Subash, 53, who walked away as the champion of the competition with his performance piece, a combination of theatre with traditional Indian and modern dance moves. His version of Michael Jackson's popular dance moves certainly drew applause from the huge crowd gathered at the concourse of the mall. There was also many shoppers who, hearing the buzz from the night's festivities, watched the show from the upper floors. It was quite a full house. Subash says that although he didn't enter the competition to win, he was moved by the "spirit of the competition" and was touched by the enthusiasm and camaraderie among all the contestants. "I didn't participate to win. I really do enjoy dancing and singing, and making new friends. Also, I enjoy performing and making the crowd feel happy. I didn't realise I'd done such a good job until some people came to congratulate me, and told me my performance was good. The best part was when a young Form Four student came up to me after the show and told me that he knew I was going to win. That made my day because until then, I thought only the elderly loved me," he says.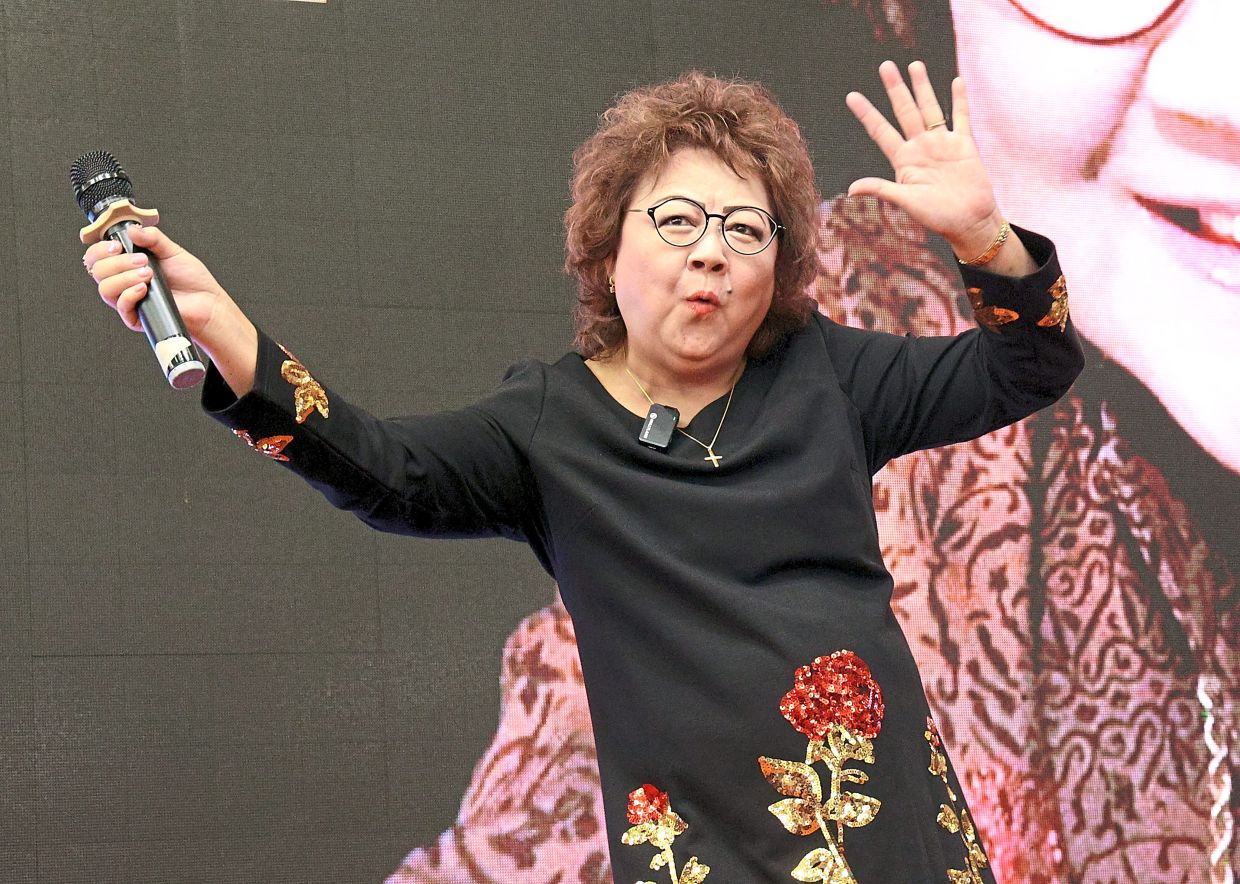 Everyone loved contestant Lee Siew Bee who, before she started her performance, implored the judges to 'be kind'. Photo: The Star/Art Chen
Second in the competition was Nizam Din who sang Everlasting Love by Gerard Joling while third place went to Roger Khong who sang Creedance Clearwater Revival's Cotton Fields. "I wanted to challenge myself and see if my talent is still relevant, especially in front of a huge audience," says Nizam, 54, who used to sing in a band and still performs at private events. They were among the 11 finalists who performed on the last day of the Life Begins at 50: The Celebration, a seniors' festival held at the Atria Shopping Gallery. The three-day festival was held from Sept 29 to Oct 1 in conjunction with the International Day for Older Persons and was organised by Amazing Seniors, a digital platform for seniors.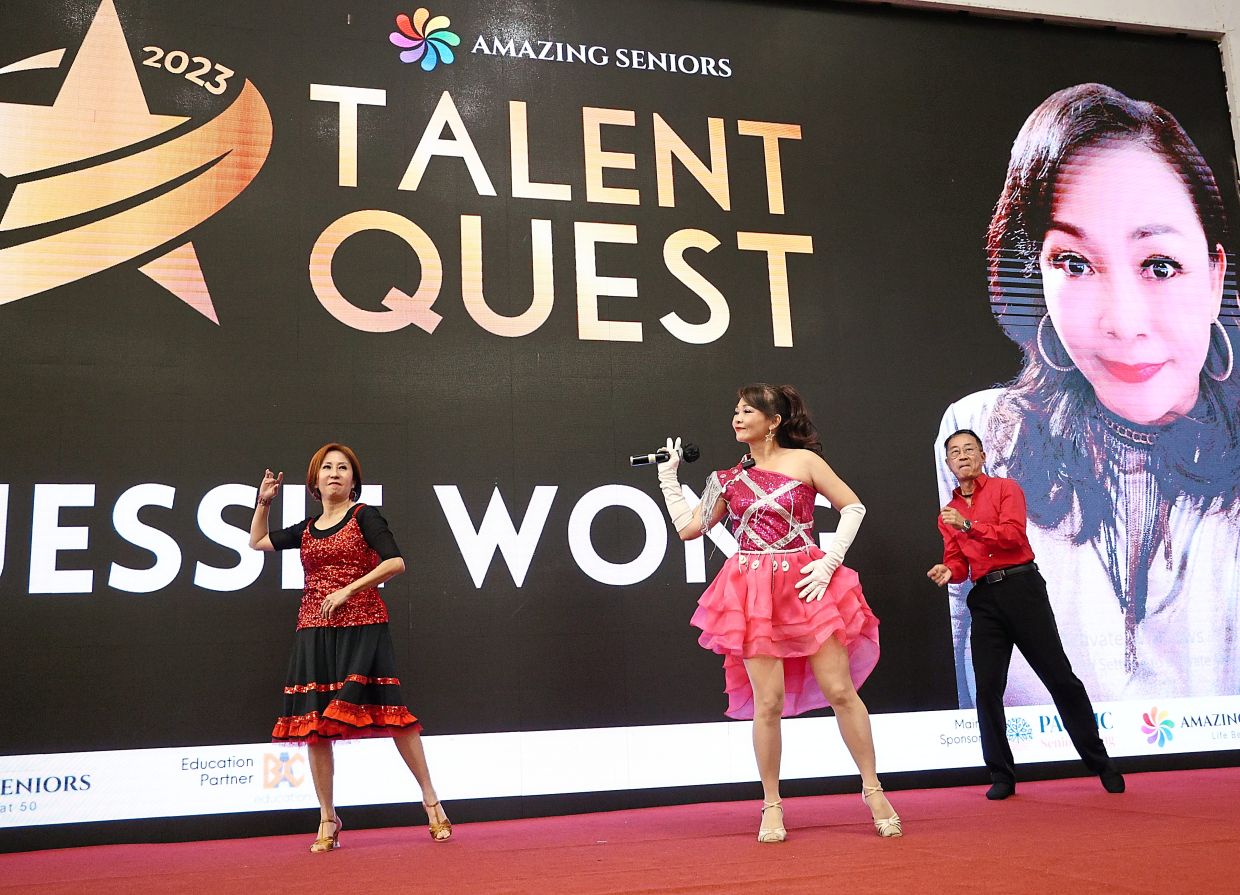 The competitors, like Jessie Wong (middle), went all out to look their best for the show. And it paid off. Photo: The Star/Art Chen
This is the second time the festival was held but this year marked the debut of the talent competition for over-50s which was meant to spotlight talented seniors. Malaysians over 50 were invited to send in videos of themselves, showcasing any type of talent – from martial arts, to dancing, to singing and others. Over 114 seniors submitted entries and 20 were selected for the semi-finals which was held on the first two nights of the festival. The finalists performed before a three-member judging panel comprising veteran singer Khadijah Ibrahim, comedian Joanne Kam and Carl Isaac, the chief executive officer of Pacific Senior Living, the main sponsor of the talent competition. Other sponsors were BAC education group and Atria. "I was so happy to be invited to be a judge. And I wish I'd been here to see all the semi-finalists but maybe next year, I'll be involved more," says Khadijah. "I think it's very important we have something like this as an ongoing activity. There are many seniors who are talented and I was so looking forward to judging this. This brings greater awareness and we should have more of such activities for our seniors. As a judge, I'll be looking for pure talent and will give them the encouragement to keep on doing what they love because this is what keeps us alive," she says.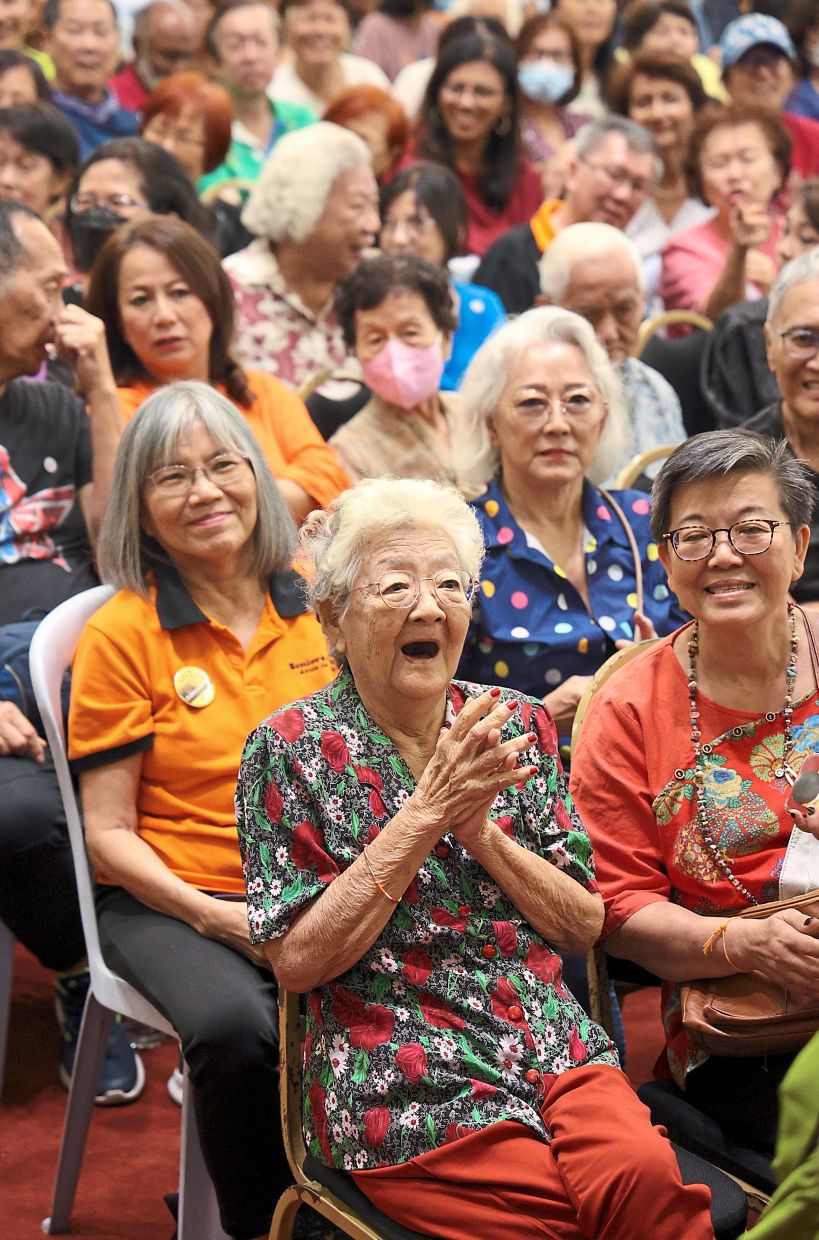 Everyone had fun, even 86-year-old Alice Yeo who got to sing with veteran singer Khadijah. Photo: The Star/Art Chen
Kam adds: "I'm sure there are many seniors with so much to offer. I heard there was even someone over 80 who took part. So it gives an opportunity for those aged 50 and above to find a space to showcase their talents. There are many who can sing, dance and do a host of other things, and why should they stop just because they reach a certain age? If Joan Rivers and Betty White could perform until they passed on, why can't we all?" The judges sure had their job cut out for them as the talent on stage at the grand finale was phenomenal. There were group performances – such as The Fab Four, a band comprising four 70-year-olds, duo performances (husband-and-wife pair Maria and Moses were the sweetest duo you could imagine), as well as many solo singers, a martial arts performance, dancers and more. It was very clear that growing older doesn't mean one's ability, utility or talent will wane. More than talent, what stood out was their fierceness to get up on stage, in front of hundreds of people, give it their all and have a rollicking good time too.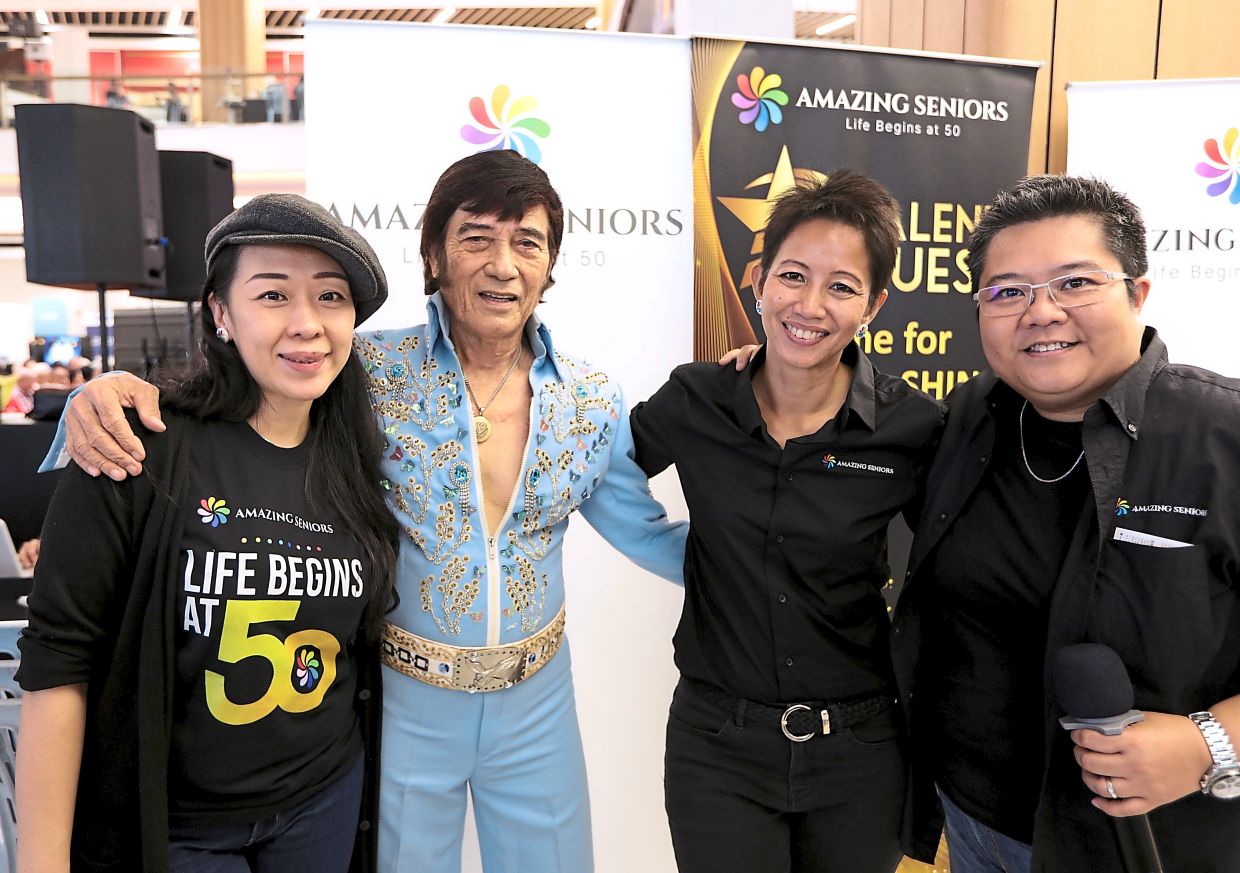 Yup, Elvis was in the building too. An impersonator with the Amazing Seniors team (from right) Low, Jasmin and Queenie Yaw. Photo: The Star/Yap Chee Hong
Seniors matter "Life begins at 50: The Celebration is intended to celebrate the joys of growing older while simultaneously raise awareness about the role that older adults play in society as we progress towards an aged nation. According to the Department of Statistics Malaysia, adults aged 50 and above account for 21% of the country's population (2020) and this is expected to grow to 34% by 2040. These findings show us that Malaysians need to recognise the key elements of successful ageing," says Amazing Seniors co-founder Jasmin Amirul Ghani. "Malaysia can unlock a host of benefits for the nation by ensuring her people remain productive through their old age, expanding the consumer economy to provide for the needs of older persons - some who may have greater spending power, and creating new economic drivers for aged care and its adjacent services," adds Jasmin. "Successful ageing can be multi-dimensional based on the interaction of three key elements which are the cornerstones of what Amazing Seniors platform aims to facilitate: avoiding disease and disability; engaging in social and productive activities; and maintaining high physical and cognitive function," says Amazing Seniors co-founder Penny Low. "We aim to support the nation's transition towards an ageing society by creating a strong ecosystem that can support those intending to retire and those who have already retired," adds Low. The Seniors Festival is the only one in South East Asia celebrating Malaysia's older generation. The three-day event also comprised informative talks by experts on topics useful to Malaysian seniors such as investments, scams, retirement, well-being, and others.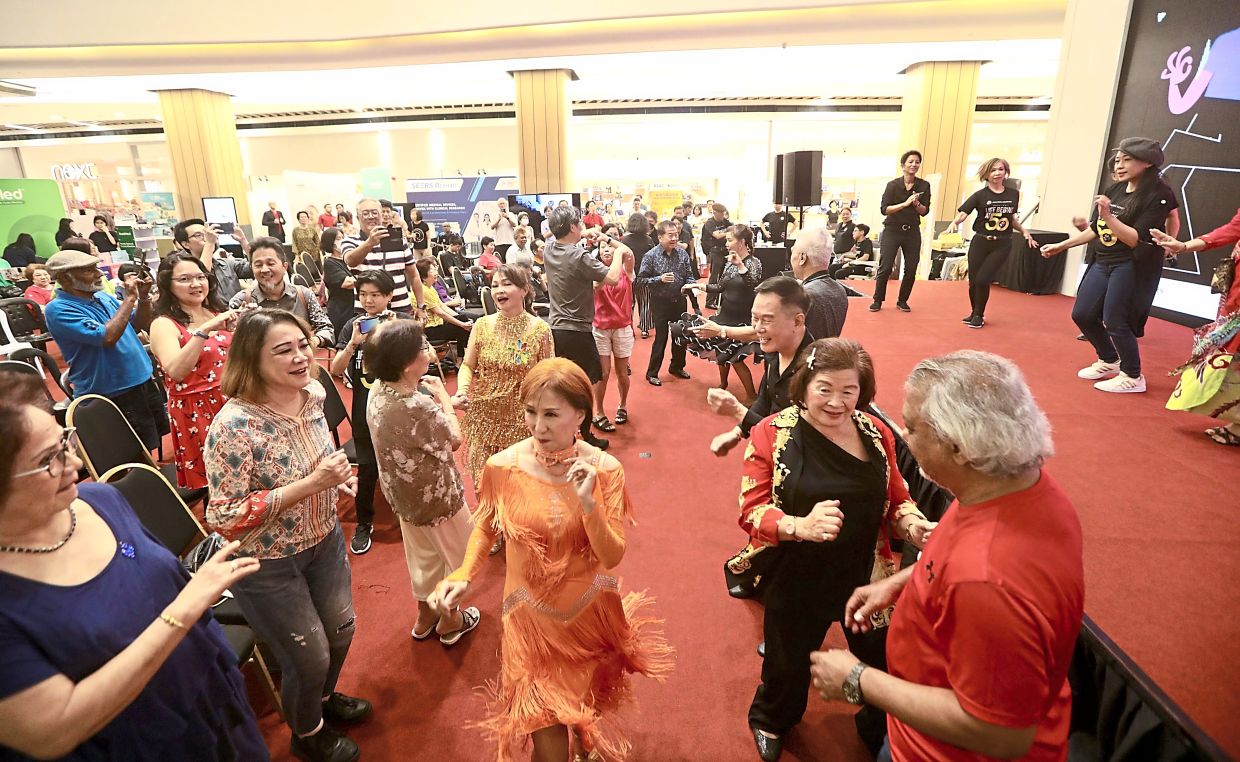 Seniors sure know how to party. The minute a song they love comes on, they're off their chairs.Photo: The Star/Art Chen
Amazing Seniors' strategic partners for 2023 are Pacific Senior Living, Cagamas, Sunway Sanctuary, KL Wellness, Pure Med, Top Group, Pharm D, Curble and Beaconmart. Seniors and their families had the opportunity to shop for food, art and crafts, health products and services, personal care items, fashionable wear, at the Seniors Fair and Bazaar at the ground and first floor of the mall. There was also a mall walk and karaoke. There were also fun performances including singing, dancing, playing musical instruments, fashion shows, even an 85-year-old Elvis Presley impersonator and much more. Everyone appeared to be having a ball as they sang and clapped along, and even got off their chairs to twist and rock along to the songs.